Goddess bowl with gorgeous green dressing

Hi there, it's Sheryl from the huia tree, I'm guest blogging today for Janine of Bestow Beauty. Janine and I work together to bring you recipes and the Bestow Within natural food journals. My journey towards better health and lifestyle started three years ago when I was diagnosed with invasive breast cancer, it knocked the stuffing out of me! Here I was early forties and thinking I could box along at a frantic pace for years to come, surely it wasn't over yet?
Thankfully it wasn't, I have learnt more in three years about myself and good health than I have learnt in my 40+ years prior.
I have always loved creating meals, it's my downtime or de-stress time. I guess that means I get to de-stress alot these days 🙂
I am happiest creating vibrant food that not is not only healthy but of course also looks great when photographed. As I am also a mother of three and work full time, I try to keep it real – recipes that are easy to create and photographs that tell it like it is. Sometimes that doesn't happen and there are a few disasters – still edible though.
So together with all of that and Janine's incredible nutritional, wellness and skincare knowledge I think we make a pretty good team! So on that note, this week's recipe seems fitting – The goddess bowl, full of healing goodness and vibrancy.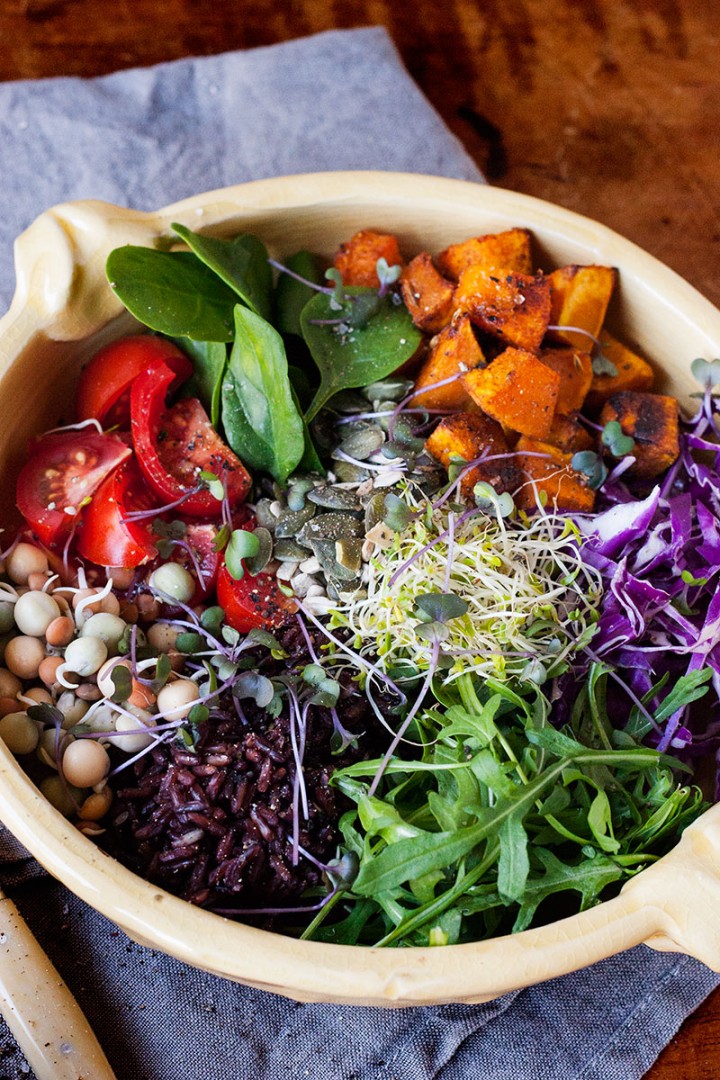 Makes two bowls
Gorgeous green dressing:
1 avocado
1/2 cup spinach leaves
1/2 basil leaves
Juice of one lemon
1 tablespoon of Bestow Beauty Oil
1 tablespoon of apple cider vinegar
Salt and pepper to taste
Blend all together with a stick blender, sweeten a little to taste (optional) with honey, maple, agave syrup or a couple of drops of stevia.
Goddess bowl ingredients:
1/2 buttercup pumpkin
1 tablespoon of olive oil
1 teaspoon of cumin powder
1 teaspoon of fennel seeds
1/2 teaspoon of cinnamon
1 cup of black rice, cooked according to packet directions
1 cup of spinach leaves
1 cup of rocket
1/2 cup of fresh sprouts
1/4 red cabbage, shredded
2 tomatoes, cut in wedges
1/2 cup of pumpkin seeds and sunflower seeds (toasted if preferred)
Microgreens (optional)
Salt and pepper
Method:
Preheat oven to 180 degrees celsius.
Cut your pumpkin into wedges and remove seeds, pulp and skin. Chop into cubes, toss with the olive oil, cumin, cinnamon, fennel and season with salt and pepper. Place in a baking dish lined with baking paper and bake until soft (15 to 20 mins). While that is cooking make up your two goddess bowls with all the other ingredients. Add the pumpkin when it is cooked, scatter with microgreens (optional), serve with your gorgeous green dressing.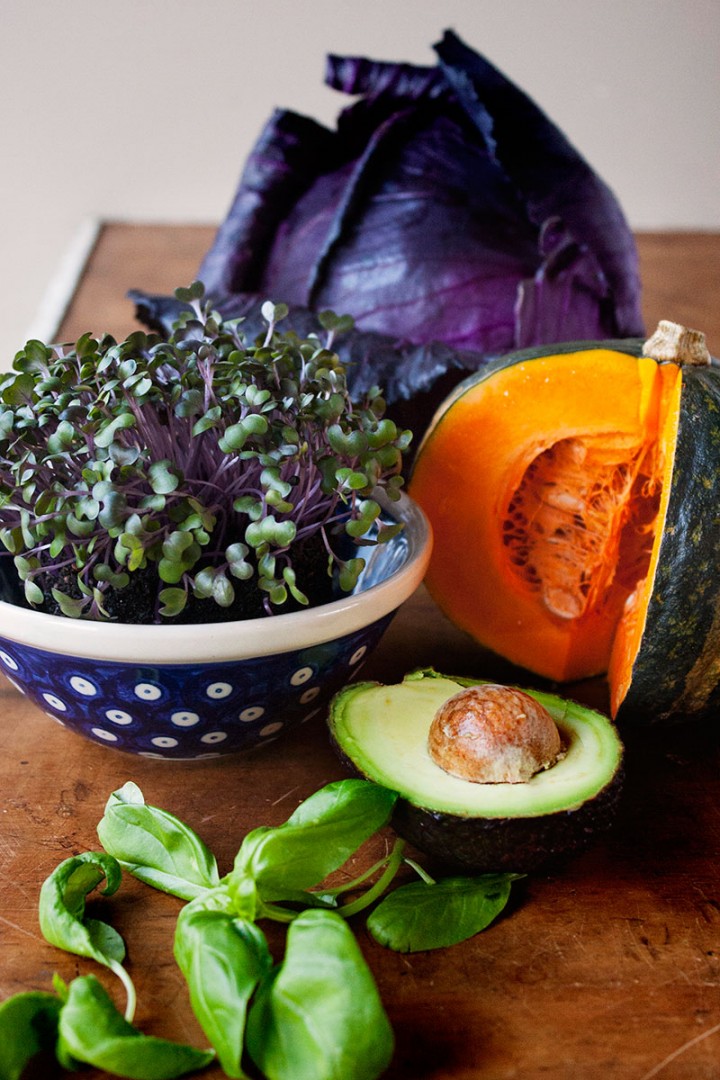 Where possible we choose organic ingredients, these lovely ones above are from Wild Earth Organics in Tauranga, Bay of Plenty.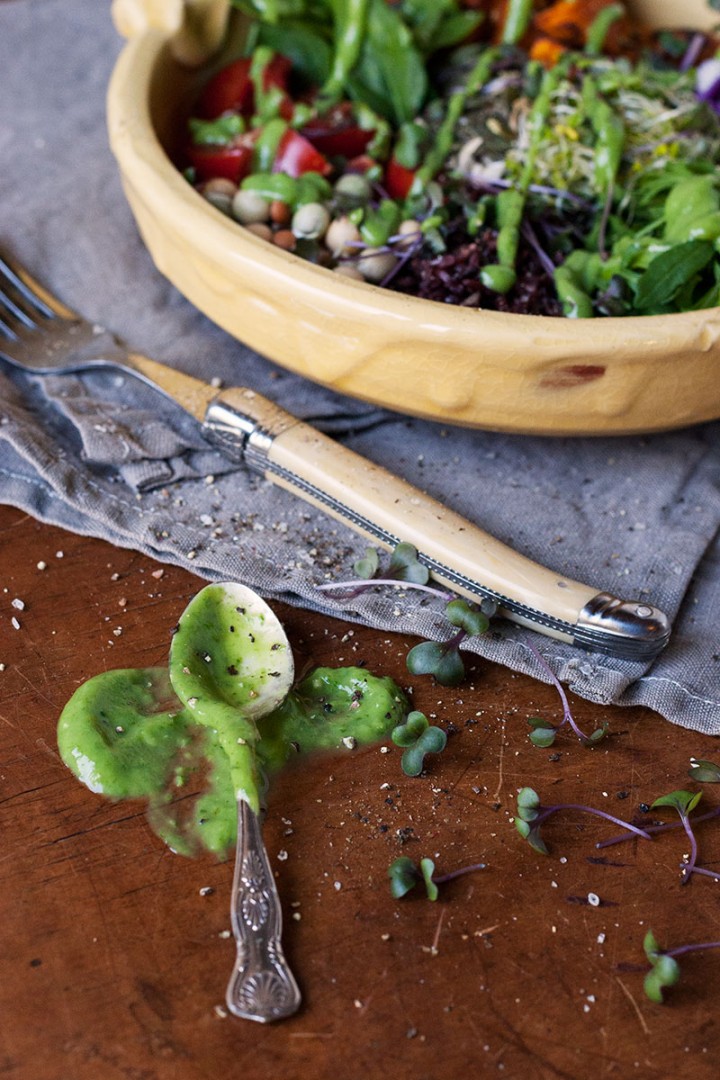 Nourishing Notes from Janine:
The Bestow Goddess Bowls are so full of 'health protecting' vegetables that it's hard to know where to start. They are just SO good for you and your skin that I have decided to focus on the avocados, the hero ingredient found in the dressing.
Avocados are not only rich in heart-healthy monounsaturated fat, they are also a great source of both insoluble and soluble fibre, keeping you regular and ensuring your skin remains fresh and clear.
Avocados are a great source of antioxidant carotenoids like beta carotene, zeaxathin and lutein as well as vitamin E. These compounds soak up free radicals before they have time to harm your cells and keep you protected against environmental damage that leads to fine lines and wrinkles.
Many people are surprised to learn that avocado's contain good levels of vitamin C too. Vitamin C is another important antioxidant that helps your skin make collagen, your anti-wrinkle fibre.
Lastly, avocados contain Omega 9 and monounsaturated oils (oleic acid) to help soften and moisturise your skin from the inside.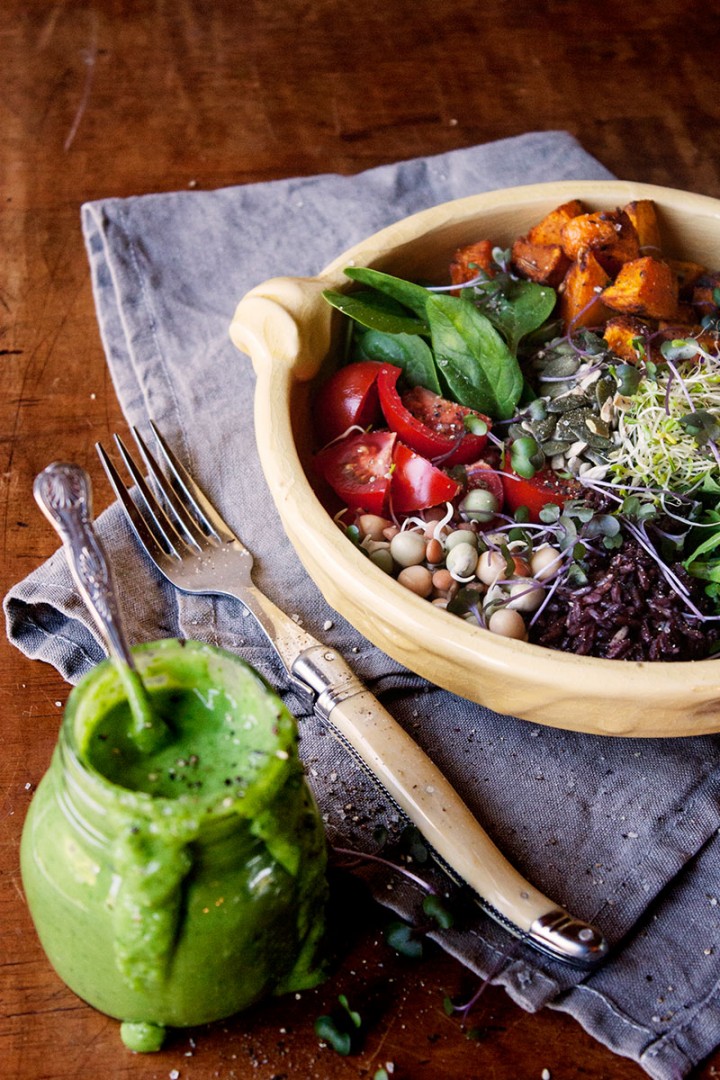 You will see more of this style of eating in the next BESTOW WITHIN journal coming out in early August! With the right ingredients on hand you can have a fresh, healthy meal in no time at all. Janine and I will show you how 🙂