If you have a hectic lifestyle it's often very difficult to eat healthy lunches while you're working. The salad in the jar can be prepared the night before, the concept is that the heavier more moisture content ingredients are layered at the bottom of the jar then the drier, lighter weight ingredients follow. You can also place a couple of tablespoons of your favourite dressing in the bottom of the jar first then when you tip your salad out into a bowl at lunchtime everything is still fresh.
If you are using avocado like in our example then chop your avocado and mix it with lemon juice before adding as a layer to the jar.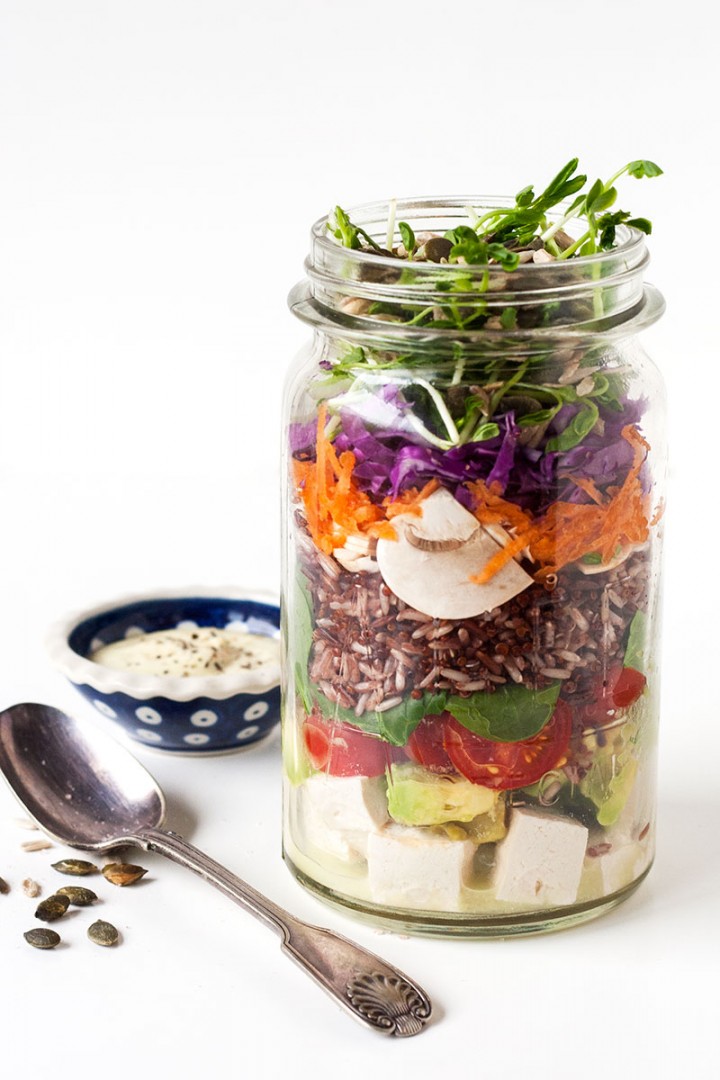 Our jar contains:
150g of organic tofu, chopped
1/2 an avocado, chopped
5 cherry tomatoes, halved
Small handful of baby spinach leaves
1/2 a cup of cooked red quinoa, black and brown rice blend
2 button mushrooms, finely sliced
1 carrot, finely grated
1/4 of red cabbage, sliced.
Small handful of snow pea sprouts
2 tablespoons of sunflower seeds and pumpkin seeds
Place the lid on your jar and refrigerate overnight or until you are ready to eat it. It will stay fresh for a couple of days in the jar. Tip your jar out into a bowl, add your dressing if it isn't already in the jar, season with salt and pepper.
We dressed our salad with tofu avocado mayonnaise (see recipe below) but you could use any favourite dressing or vinaigrette.
There are many options for your salad in a jar, chickpeas, tuna, rocket, lettuce, boiled egg, cucumber to name just a few – be creative!
Nourishing notes from Janine Tait
Fresh, raw vegetables are full of enzymes that aid your digestion and provide you with loads of vitamins, minerals and antioxidants that fuel your skin and your body.  
The tofu and quinoa in this mix ensure you get all the amino acids you need and the brown rice is a great source of complex carbohydrates to fuel you throughout the afternoon. To top it off, every skin nutrient you require for gorgeous, healthy skin is provided in this one tasty meal.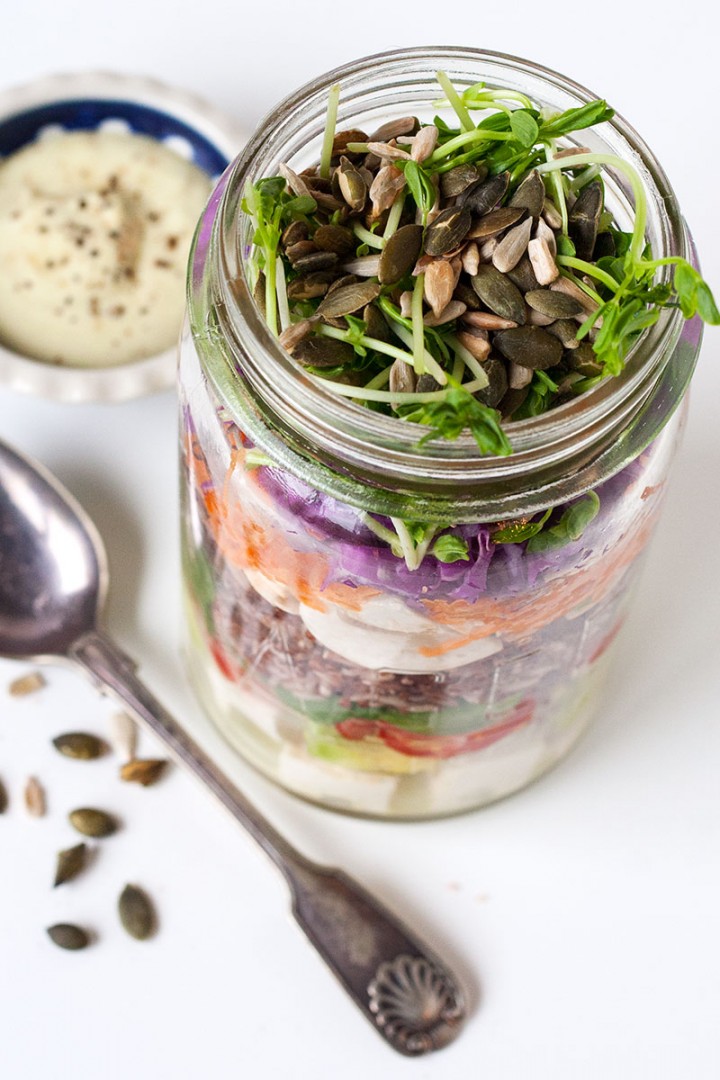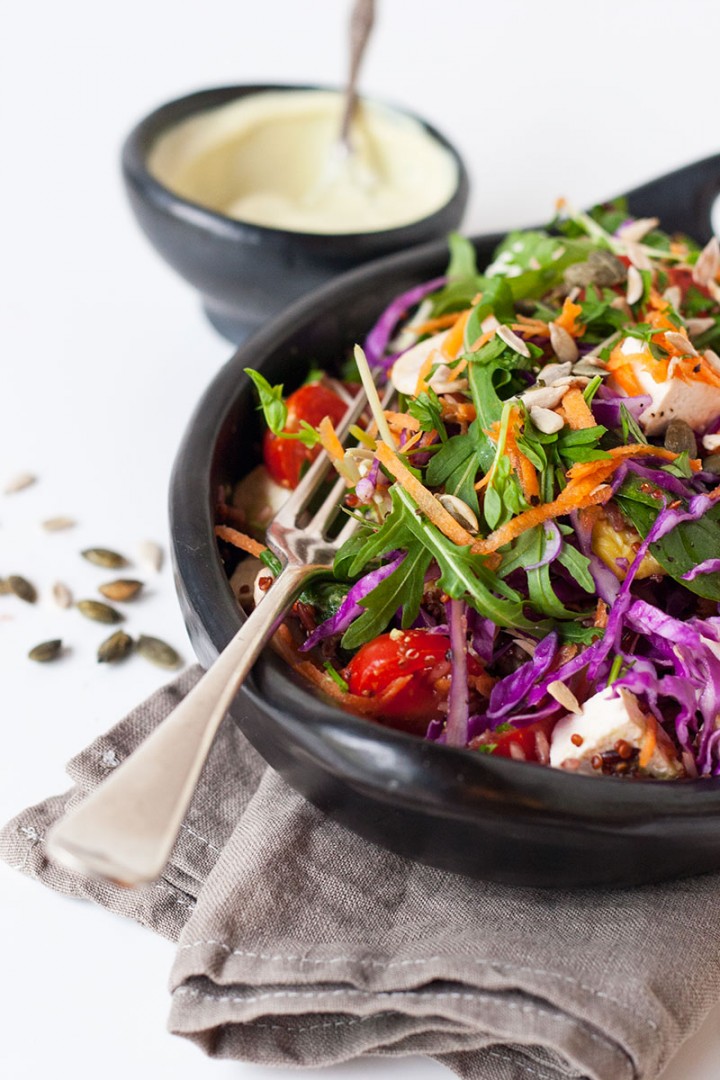 Tofu avocado mayonnaise
200g of organic tofu
1/2 an avocado (optional)
1 tablespoon of apple cider vinegar
1 tablespoon of Bestow Beauty Oil (or olive oil)
2 teaspoons dijon mustard
Juice of one lemon
2 – 3 tablespoons of water to achieve desired consistency
Himalayan salt
Ground black pepper
Blend all ingredients together until silky smooth. You could also add a handful of your favourite herbs to the blend such as fresh coriander or parsley.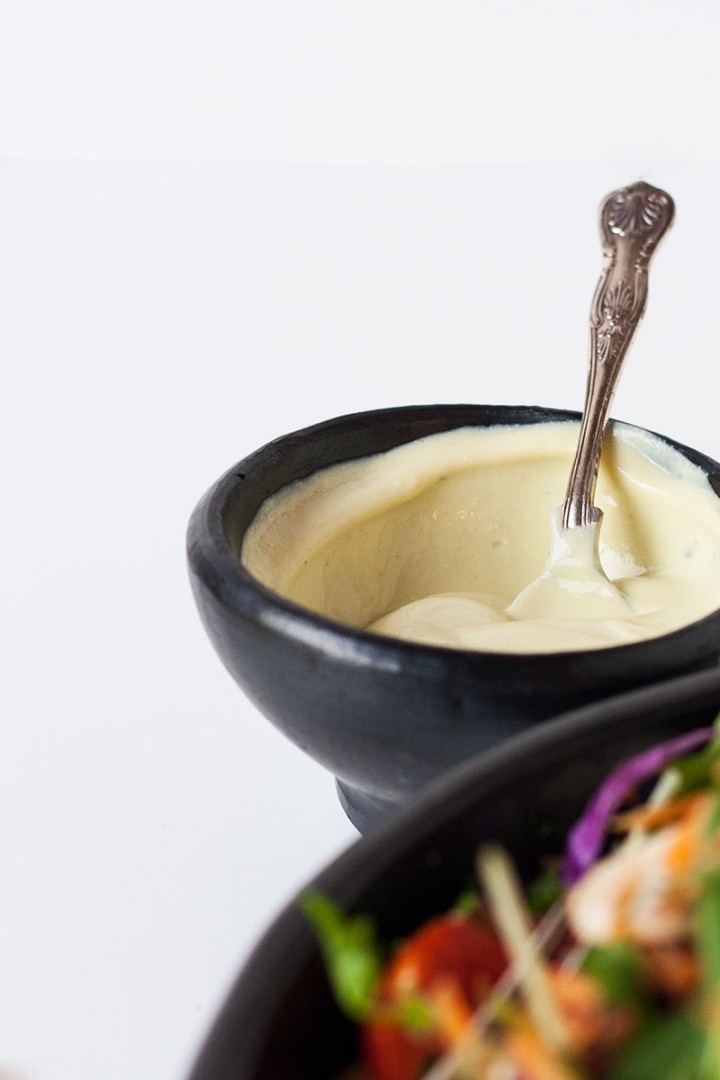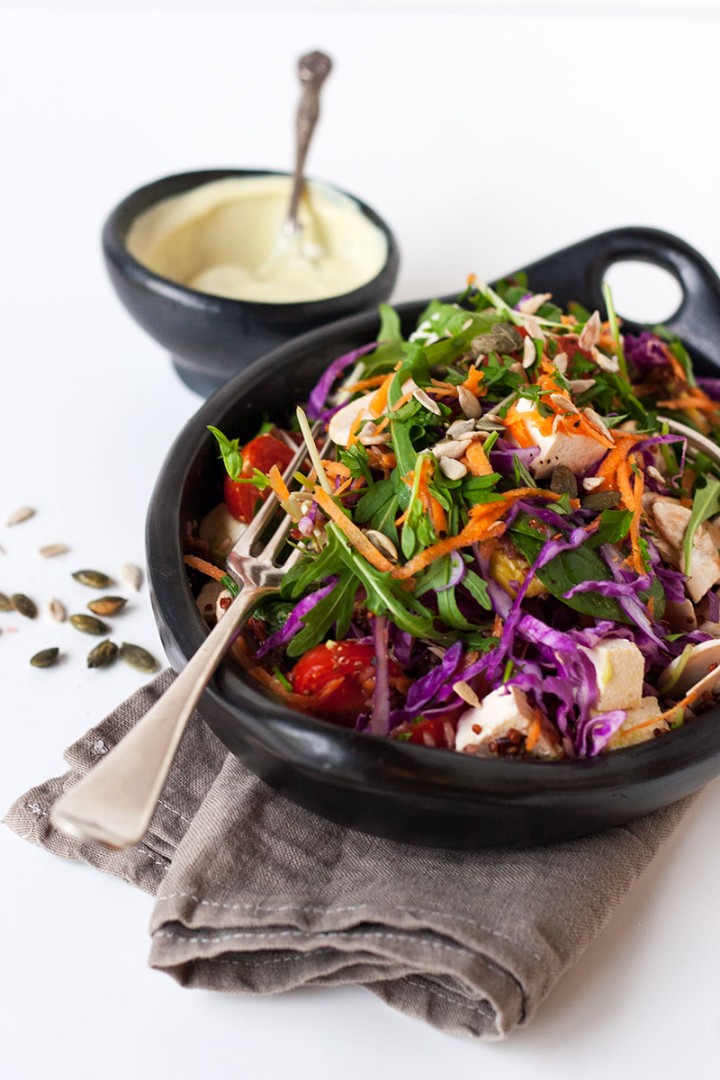 Photography by the huia tree