Bestow Beauty From Beneath – A Skin-Specific Multivitamin Supplement
Bestow Beauty From Beneath is a plant-based, dietary supplement for skin health.
It is important to use supplements just as their name suggests: to supplement a healthy diet. Bestow Beauty From Beneath daily capsules supply organic, plant-based nutrients that can be low in our modern diet.
When it came time to decide exactly which minerals and vitamins to include in the formulation, I had to think carefully. There is a limit to what you can physically fit in one capsule. I had to choose wisely how I would spend that space.
How did I go about that decision?
I listed all the nutrients that our skin requires for optimum health and beauty.
I prioritised the nutrients that are hard to get enough of from our diet.
For example, zinc is an important skin nutrient that most people are low in. Why? Because New Zealand soils are deficient in this mineral. To address this, I have put two different variants of zinc into Bestow Beauty from Beneath capsules.Boron is another mineral that is low in a wide range of New Zealand soils. Surprisingly, it is not often included in dietary supplements. This was an important one to include.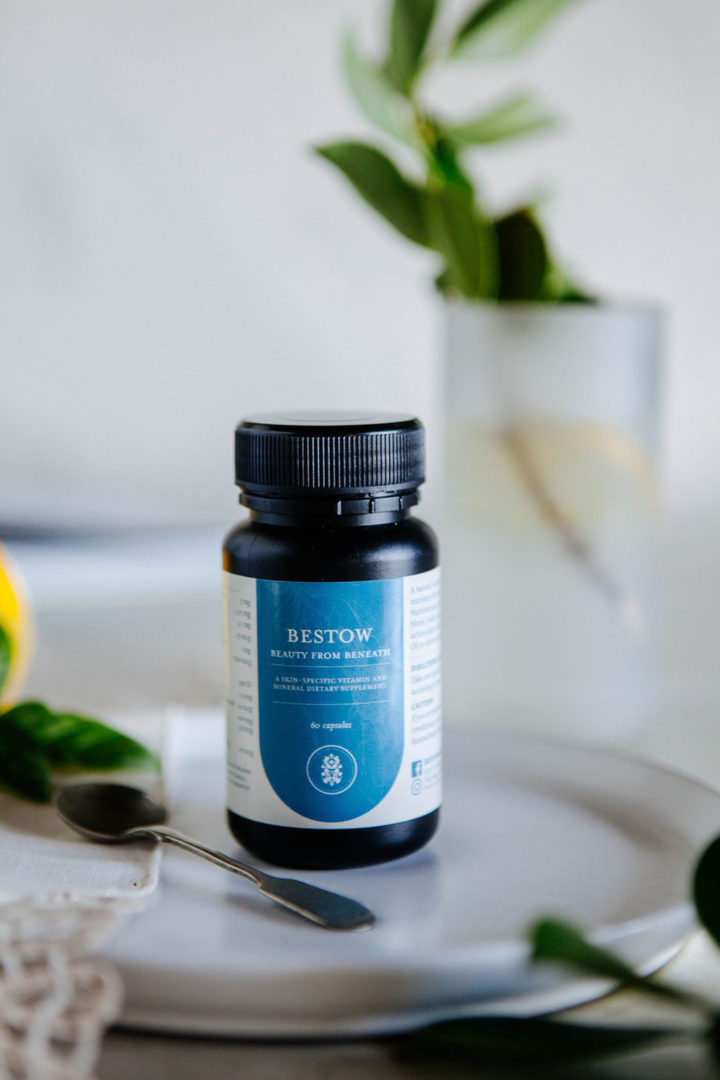 A Selection of Nutrients Included in Bestow Beauty From Beneath
Boron helps to accelerate and improve wound healing. It also activates fibroblasts, which produce collagen and help to form strong, supple skin.
Copper helps with the formation of red blood cells, which carry oxygen to the skin.
Carotenoids promote wound healing and stimulate the production of collagen, our anti-wrinkle fibre.
Vitamin C is vital for the production of collagen. It is an important anti-oxidant and assists with wound healing.
Vitamin E helps to keep your skin looking younger by inhibiting cellular ageing caused by oxidation.
Vitamin B2 works together with B6 to promote healthy skin. It treats cracks at the corners of the mouth and helps to improve eczema.
Vitamin B3 improves blood circulation to nourish skin. Deficiencies in B3 can lead to dermatitis.
Vitamin B5 assists in the building of healthy skin cells and helps to prevent dryness.
Vitamin B6 works in conjunction with vitamin B2. It helps prevent various skin disorders.
Selenium is a vital antioxidant that is essential for skin elasticity.
Zinc aids in skin healing and strengthening and helps to prevent acne-scarring. It is vital for the production of collagen.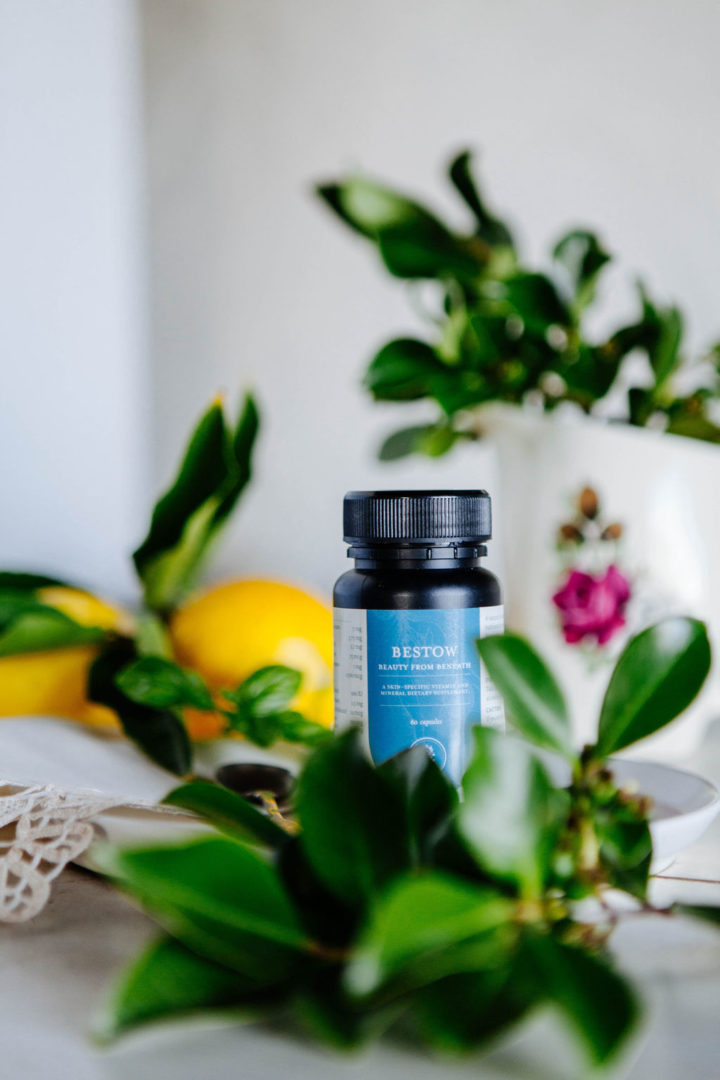 Q. Can't I just take any dietary supplement for my skin?
What does it mean that Bestow Beauty From Beneath is skin-specific?
A. One of the reasons we developed Bestow skin nutrition products is because most dietary supplements don't contain nutrients in the right proportions for skin health.
In particular, B-vitamins are often supplied in the wrong ratios for skin. For example, B2 is often provided at far too low levels to support skin health. When other B vitamins are out of balance with B2, you can experience B2 deficiency symptoms, such as fine cracks developing at the corner of your mouth.
Bestow Beauty From Beneath not only contains the perfect balance of B-vitamins for skin health. It also contains a blend of the nutrients that are required for beautiful skin and healthy collagen production.
With daily use many people find that their skin looks better, heals faster and ages slower. As a bonus, this dietary supplement can also improve energy levels and promote a greater feeling of wellbeing.
Team It Up
Bestow Beauty From Beneath and Bestow Beauty Oil are companion products.
To fulfil your skin's daily key nutrient needs, you also need a daily intake Essential Fatty Acids (EFAs). Bestow Beauty Oils provide a skin-friendly blend of this important skin nutrient. One tablespoon per day helps to moisturise your skin from within and promotes soft, clear, glowing skin. The B-vitamins in Bestow Beauty from Beneath help to optimise EFA absorption. If you add these two Bestow products to a healthy diet, you will be providing your body with everything it needs to produce healthy, glowing skin from within.