Roast Cauliflower Soup
Are your memories of cauliflower the boiled to oblivion tasteless ones? If so you need to try roasting your cauliflower! Wow, such a difference, roasting turns this vegetable into a gorgeous sweet, tasty, flavoursome one.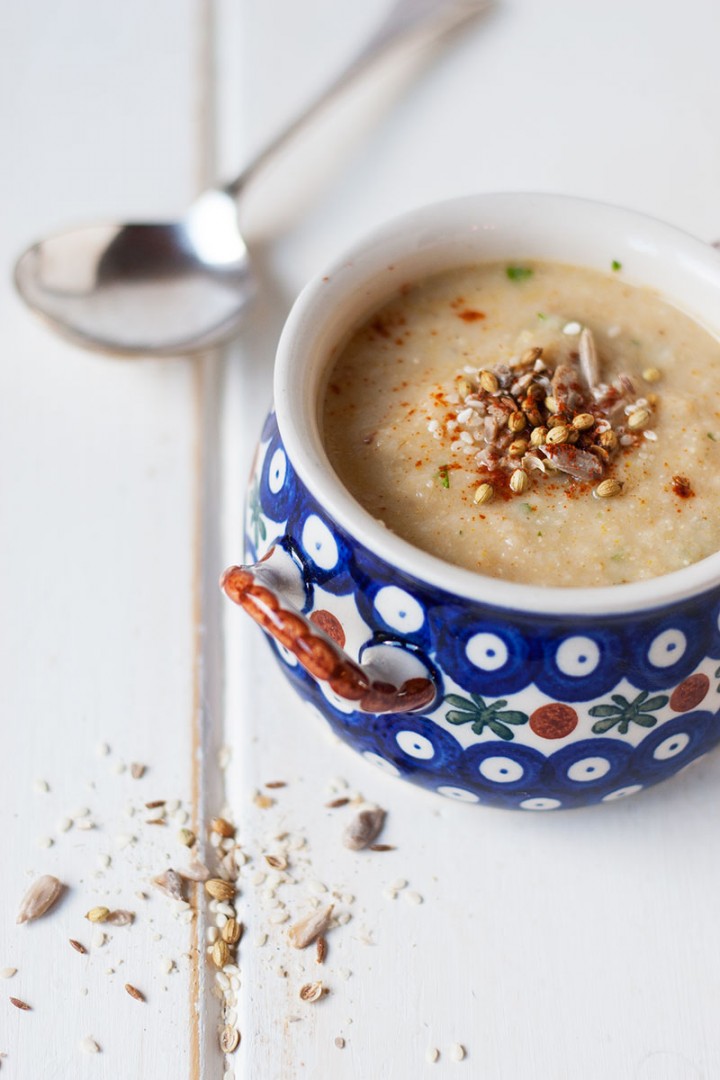 RECIPE
1 tbsp olive oil
1 onion, quartered
1 medium size cauliflower – florets
4 garlic cloves
, peeled
4-6 cups vegetable stock (low salt)
juice of 1 lemon
1 tsp cumin powder
1 tsp curry powder
1 tablespoon parsley, finely chopped
salt and pepper to taste
Preheat the oven to 180 degrees celsius. Shake the cauliflower florets, onion and garlic cloves in a plastic bag with the olive oil. Place all on a baking tray and roast for 30 minutes until the cauliflower is golden brown on the edges.
Remove from the oven, add to a food processor with all the other ingredients and process until smooth. Add more stock if you like a thinner soup.
Pour into a saucepan, heat for 10 minutes over a medium heat and serve.
Nourishing notes: Cauliflower is a great source of vitamin b5, an important vitamin for collagen formation and necessary for your skin to have a healthy oil production. Acne sufferers have often been found to have low blood serum levels of vitamin B5 making them more prone to oil droplets forming in the oil glands of the skin so it is particularly important for them to eat good dietary sources of B5.