Beauty Powder vs Beauty from Beneath capsules
A common question I'm being asked is what the difference is between the Bestow Beauty Powder and the Beauty from Beneath capsules.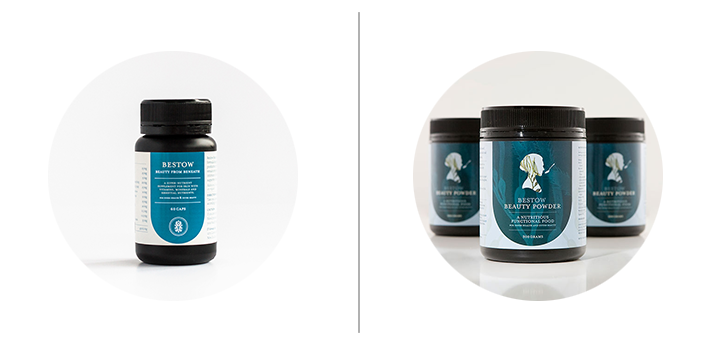 Nutritionally they have similar goals; to provide the nutrients the skin requires for collagen and elastin production, to heal effectively, and for health and beauty. But how they do this is completely different…
The Beauty Powder is a blend of super-foods chosen because of the nutrients they contain. The advantages of this approach are that, being food-based, the nutrients in the Beauty Powder are very bio-available (easily absorbed by our bodies) and will also contain nutrients that we're not even aware of yet. For example, it wasn't so long ago we didn't know of the existence of phytochemicals such as lycopene or resveratrol, but they have always been available in our food and that's the advantage of using something supplied by nature.
The Beauty from Beneath is supplement-based so the advantage is that you can guarantee the quantities of nutrients whereas food levels naturally fluctuate with each harvest. It's also very convenient to take and easy to travel with.
You may find that you naturally gravitate to one or the other. It could be because of your diet or lifestyle, maybe you always have a smoothie so the powder is an easy addition or alternatively, you could travel a lot and prefer the convenience of a capsule. Or it could be a philosophy that makes one option more attractive than the other, for example you only eat organic, whole food or you prefer the guarantee a supplement that provides higher levels of nutrients.
Or you could be like me and take both the powder and the capsules so you receive all the anti-ageing nutrients from both sources – the ultimate insurance!
See our stockists to order.