The Bestow Christmas Loaf Recipe
With Christmas fast approaching, many of us are reaching for a delicious seasonal treat.
Our Bestow Christmas Loaf will not only satisfy your Christmas cake cravings, but also makes a perfect Christmas present. Wrap it in a beeswax wrap and finish off with a festive ribbon for the perfect zero waste gift this year.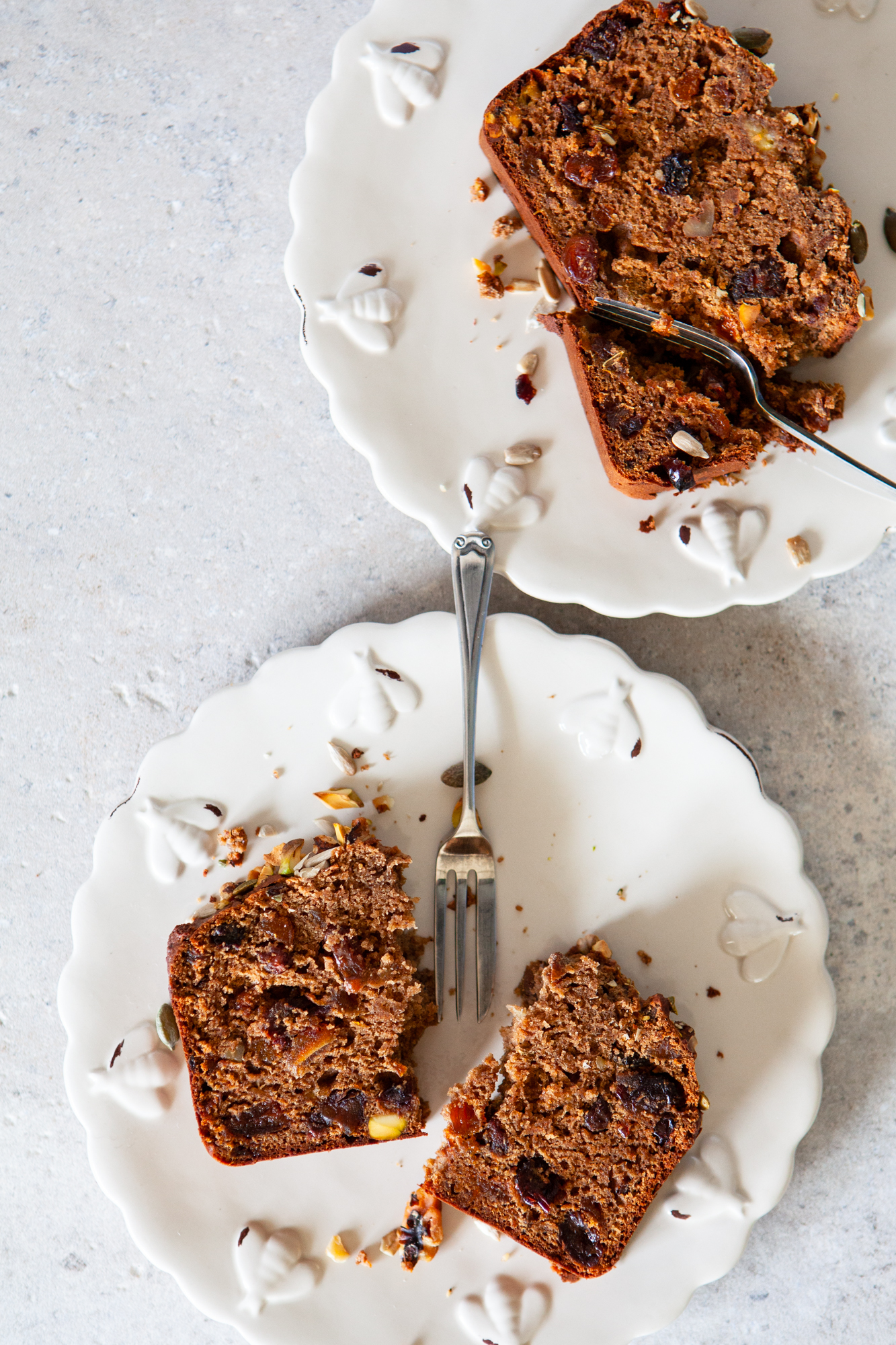 RECIPE:
GF/DF/RSF/*Vegan Option
1½ cups buckwheat flour
1½ cups almond meal
½ cup of coconut sugar
¼ cup of tapioca flour
2 teaspoons of baking powder
½ teaspoon of baking soda
½ teaspoon of salt
3 teaspoons of cinnamon
2 teaspoons of ground ginger
1 teaspoon of fennel seeds
½ teaspoon of nutmeg
½ teaspoon of ground cloves
1 teaspoon of ground cardamom
½ cup of chopped dates
½ cup of chopped dried apricots
½ cup of raisins
½ cup of dried cranberries
½ cup of chopped walnuts (reserve 1 tablespoon for the top)
½ cup of chopped pistachios (reserve 1 tablespoon for the top)
2 ripe bananas, mashed
2 eggs*
1 cup of dairy-free coconut yoghurt
2 tablespoons of melted coconut oil
1 teaspoon of pure vanilla
METHOD:
Pre-heat oven to 160 degrees celsius.
Place all the dry ingredients, seeds, fruit and nuts in a large bowl and mix well. Add the eggs to a seperate bowl and beat. Add the mashed banana, coconut yoghurt and vanilla. Mix well then lastly add the coconut oil and stir. Add the wet ingredients to the dry ingredients and mix well.
Spoon mixture into a large loaf tin lined with baking paper.
Sprinkle the top with the reserved walnuts and pistachios. Add some sunflower seeds and pumpkin seeds too if you wish.
Bake 1 hour and 10 minutes – test with skewer, bake another 10 minutes if required and test again.
Cool in tin for 30 mins then remove loaf from tin and place on a cooling rack.
Keeps for several days in an airtight container and also freezes well.
*For a vegan option replace with two flax eggs by soaking 2 tablespoons of flax seeds in 6 tablespoons of water for
ten minutes.